Knock knock! Hello Kitty is at the door. "Shall we walk to school, ?"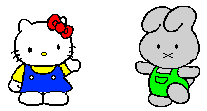 Next page





"Aren't my Mum's flowers pretty?" says . "Let's pick some for Mrs Spinkmeir, our teacher" says Hello Kitty.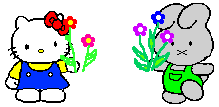 Next page





On the way to school Hello Kitty and met Keroppi.
"Hello, ! Hello, Hello Kitty! What lovely flowers" he says.



Next page






"They're for Mrs Spinkmeir" says . And they all go to school to give them to her.




Next page